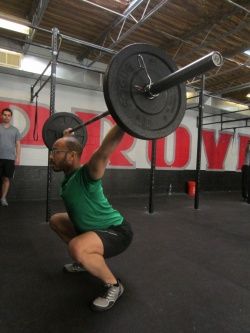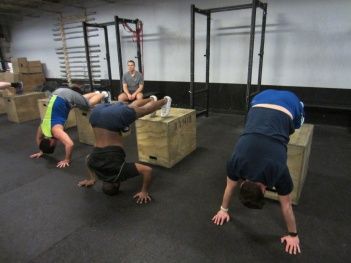 Warm-Up
3 Rounds of
15 Band Good Mornings
10 Spider Lunges
15 Band Pull Aparts
10 Supine Scorpion
then,
2 Rounds
5 Quadruped Ext and Rotation/side
10 Superman w/Arm Retraction
Strength – Deficit* Deadlift w/ Pause Negative** (35 min)
Prep:
1 x 10 RDL w/ bar;
3 x 3 working up in weight
Work:
3-3-3-2-2-2
*Deficit = Stand on Plate or mats to increase ROM. This will require hips lower and engage quads more as bar is driven off floor. Scale to regular start for anyone unable to maintain flat back at start and throughout lift.
**Pause Negative = 1 count pause (A) above the knee, and (B) just below the knee. Ensure back remains flat and hips move back. Use weight that allows perfect form.
Accessory
4 Rounds, NFT, of
Max distance Single-Arm Farmers carry (start w/ non-dominant arm, match distance w/ dominant arm)
10 Single Leg Hip Bridge/ side
20 Hollow Rocks
10 -15 Band Hamstring Curls
Cool Down
Spinal Twist Series