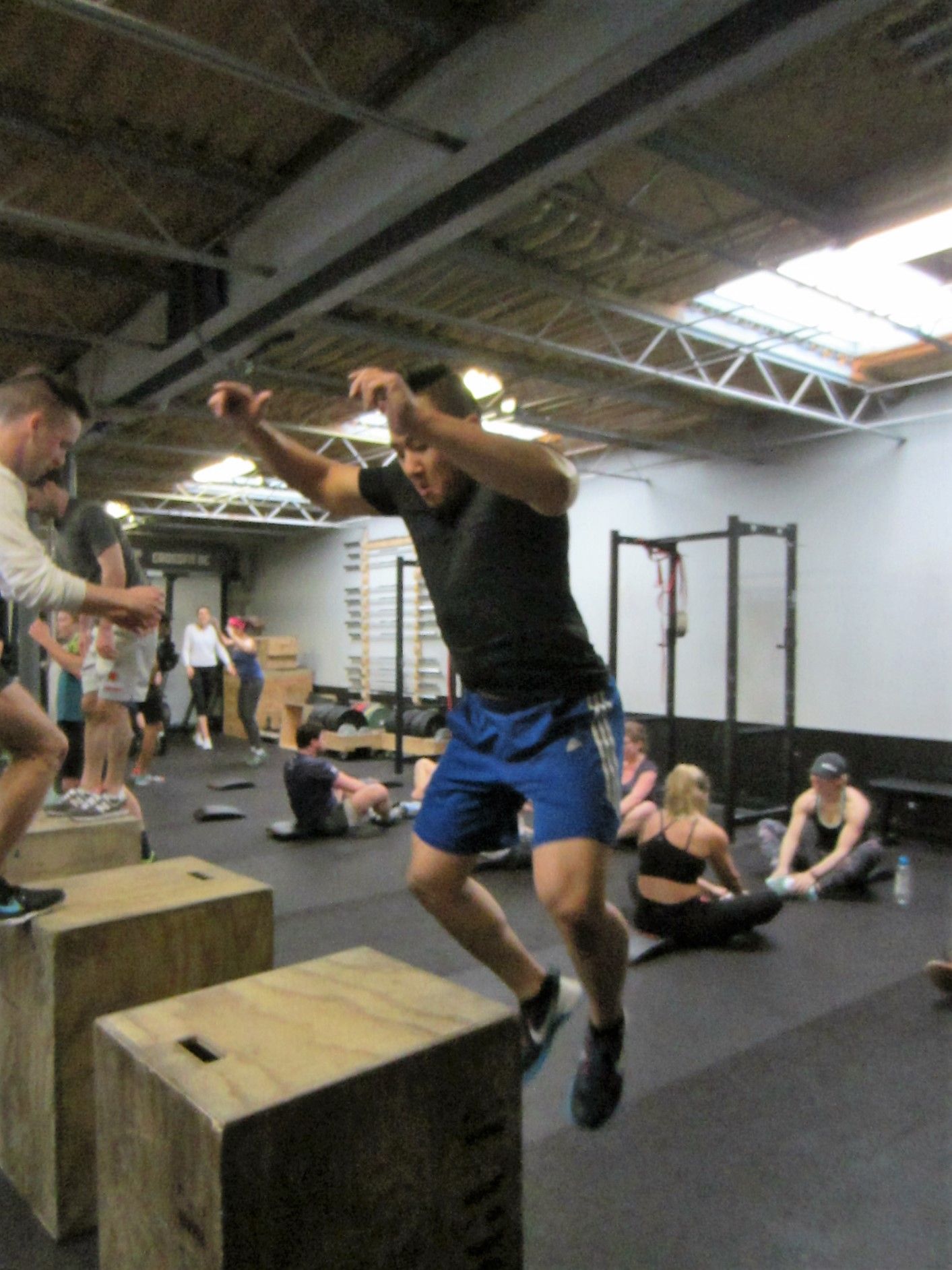 Monday, 7/18
July 17, 2016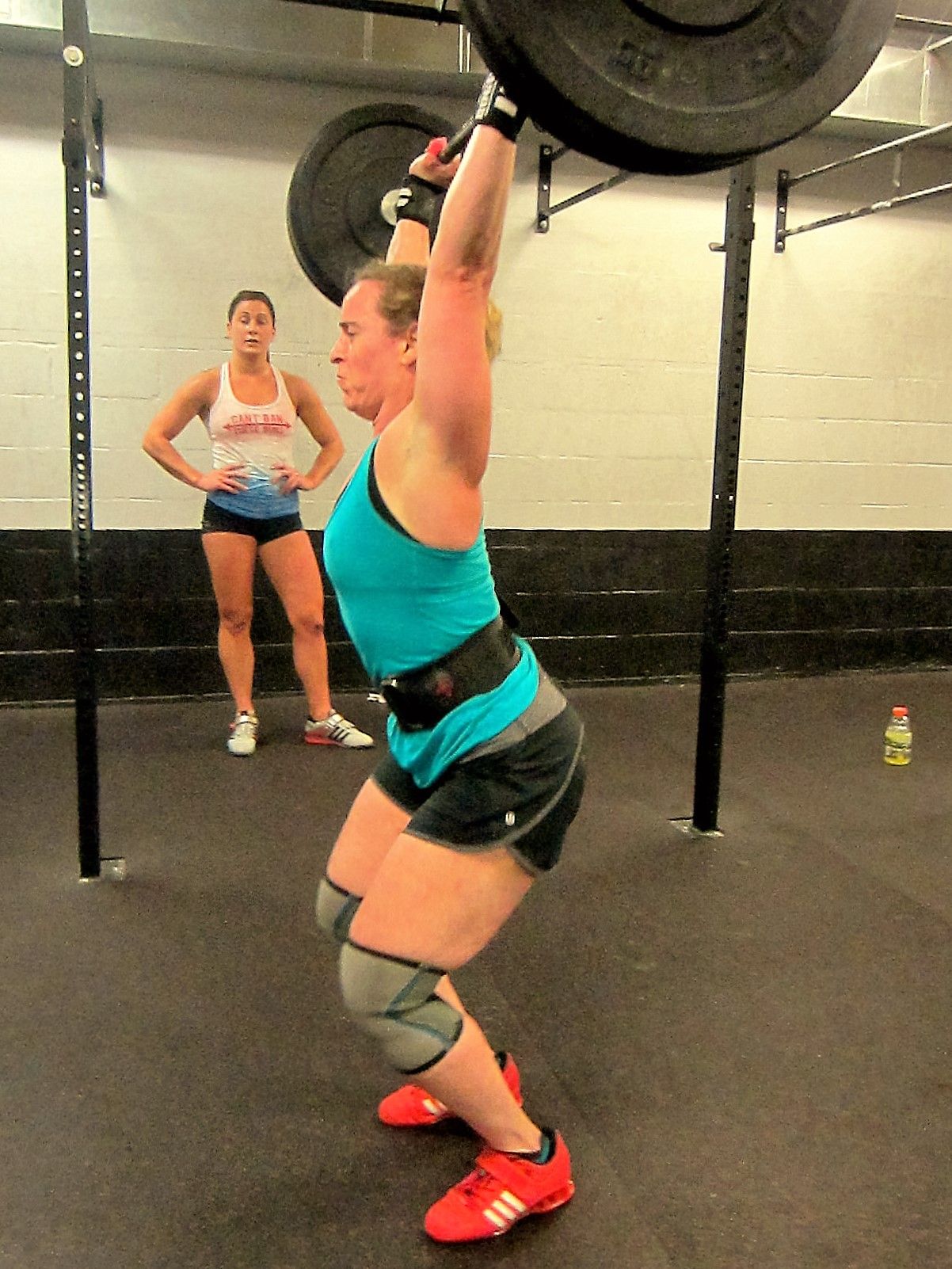 Tuesday, 7/19
July 18, 2016
By Coach Jessi
You probably know Coach Jessi from her expert coaching at 14th Street, her small-but-mighty O-lifting feats, or her standout skill set (ever hear of the legend of Jessi B and the AMRAP pistols?).

What you might not know is that Jessi has spent the past year patiently rehabbing an injury, and working her way back into full training. In our latest blog post, she shares some of lessons learned in the process — and how she's building back up, better than ever.
*   *  *
I've spent the last year contending with a torn labrum. Thing is, I didn't know that I'd torn it until a good 5 months after the deed was done. My shoulder was definitely bothering me but I thought I was being smart: I took a couple days off, went to the PT a couple times to get dry needling and exercises, tried to lay off the movements that hurt. But over the course of those couple of months, it wasn't getting better – in fact the pain was becoming chronic and spreading to my back and neck. Not only was I feeling it throughout the day, I couldn't do the things I wanted to do at the gym. If you've ever tweaked anything, you know what it's like to have to modify every. damn. workout. I just didn't know when or how I'd get past it.
I'm on my way back now, and thought I'd share some of my hard-earned lessons so that you can avoid injury, and if you end up there, maybe make it back a little smarter.
*   *  *
1. Know thyself – and thy goals.
I finally got a diagnosis around Thanksgiving, and I realized that as much as I love competing in CrossFit, this had to be about taking a giant step back and returning to basics so that I could heal and build a healthy shoulder that would let me do the things I want to do for the next 20 years, not just the next competition year. I decided to really commit myself to the hardest thing I've done in CrossFit so far – rehabbing intelligently.
I took over a month off with the goal of reducing the acute inflammation. I finally admitted to myself that if I came in to try and do the things that didn't affect my shoulder I'd probably still find a way to push it. At that point, even the shoulder position for squats was painful. In January, my PT gave me a pretty elaborate shoulder rehab program, which required mirrors, small weights, bands and doing wax-on wax off with slam balls – turns out that's really hard. I rehabbed an hour a day 5 days a week for the next 3 months, without touching a bar.
Takeaway: Figure out what recovery means for you and know the why, meaning what you're doing it for. It'll help you stay motivated and stay true to the treatment plan and timeline. If you have a tendency to push too hard, factor that in. If you have a tendency to not push hard enough, factor that in.
2. Form matters. Always.
In March I was finally cleared to come back to the gym, alternating rehab days with CrossFit workouts. I was given one very clear rule: approach every movement as rehab. Little to no weight, no dynamic movement, work on shoulder position and form.
I'd already invested so much in my recovery that I didn't want to risk setting myself back, so I let go of PRs, expectations, pretty much anything that would make me push myself back towards injury, and became a perfectionist about every little movement for everything, not just my shoulder. I worked with an empty bar. I did v-ups. I did squats and deadlifts at light weights. Bit by bit, my shoulder – and the rest of me – got stronger, and I began feeling more stable overall.
This is how I'll approach CrossFit from now on, it'll help me avoid injury going forward.
Takeaway: It can be really hard to step back from always pushing yourself to do the heavier weight, the faster time, the harder movement. But you actually help yourself get there by dropping the weight, slowing down, working on the fundamentals. Try it out and you'll be able to see the progress, I promise. Turns out that's the best way to really improve!
3. Patience is indeed a virtue.
About 2 months ago I had gained enough strength to start dynamic movement again, and I felt like a kid in a candy store. pullups! snatches! cleans! This was also the danger zone – it felt so good to be back after so long that I was at risk of pushing myself to do things that I wasn't quite ready for yet. So I constantly reminded myself of points one and two: remember what I know about myself and what I'm trying to achieve, and approach everything as rehab. The day I could do toes to bar without pain is one of the highlights of my CrossFit career – validation that I'd been smart and listened to my body.
At this point it's been a year and I'm not really counting weight yet, not thinking in percentages, still focusing on perfecting form and technique. It's taken longer than I would have wanted, part of that picture is the time I spend at work and the demands of my day job. My PT reminded me that my day job isn't CrossFit (or rehab), and that means I have less time in a given day to work out and rehab, which means it'll take longer. But I'm getting stronger, and I have a plan: break down the movements that still feel uncomfortable and work on strengthening. For the muscle up, it's the swing and kip so I'll be working on that.
Takeaway: Be patient with yourself. Especially if you have a full time job. Recovery will take longer if you have to spend 8 hours (or more) in an office, that's ok. Just keep chipping away at it.
4. Don't go it alone.
I couldn't have figured any of this out on my own. I had a good PT, my brother – he specializes in sports injury prevention and rehab with a focuses on CrossFit, and he knows my athletic history better than anyone. I totally lucked out on that one. He set me on the right path with programming, progress check-ins, and accountability. The professional expertise was critical. But I also asked coaches and partners in workouts to watch my form, give me cues, help me keep progressing and fix my form in the moment. If you partner with me, I'll ask you. It's the best way to make sure I maintain the "everything is rehab" approach, especially in metcons where the risk of sloppy form is higher.
Takeaway: Bring everyone in on your rehab, help people to help you – that pretty much applies to all training and form all the time. And find a good PT that you trust.
*  *  *
I could look at the last year and be upset about having "taken a year off" from CrossFit. But it's been an incredibly valuable learning experience – I know myself better and I feel like I'm coming back smarter, stronger, and more grounded. I consider it a PR.