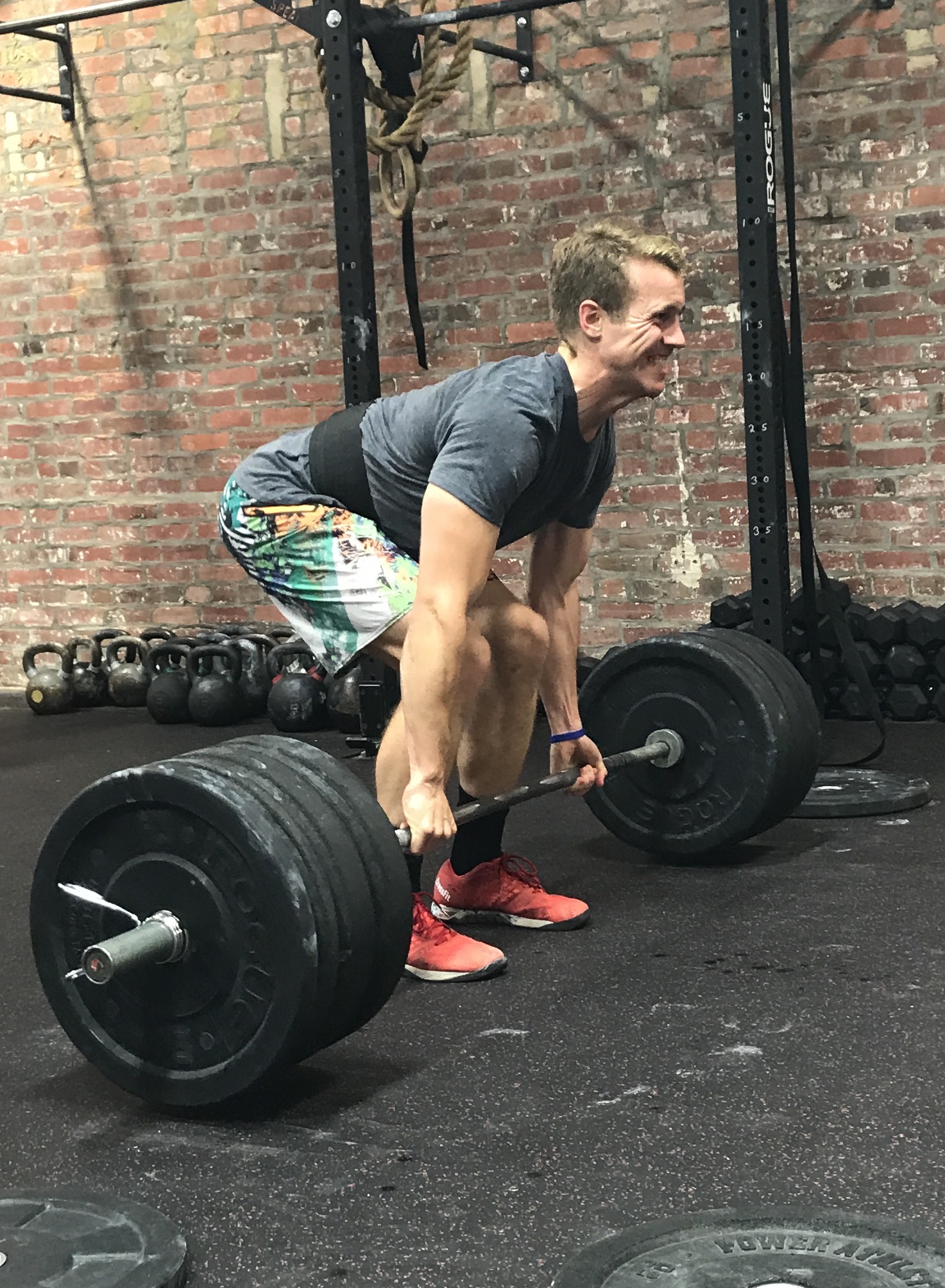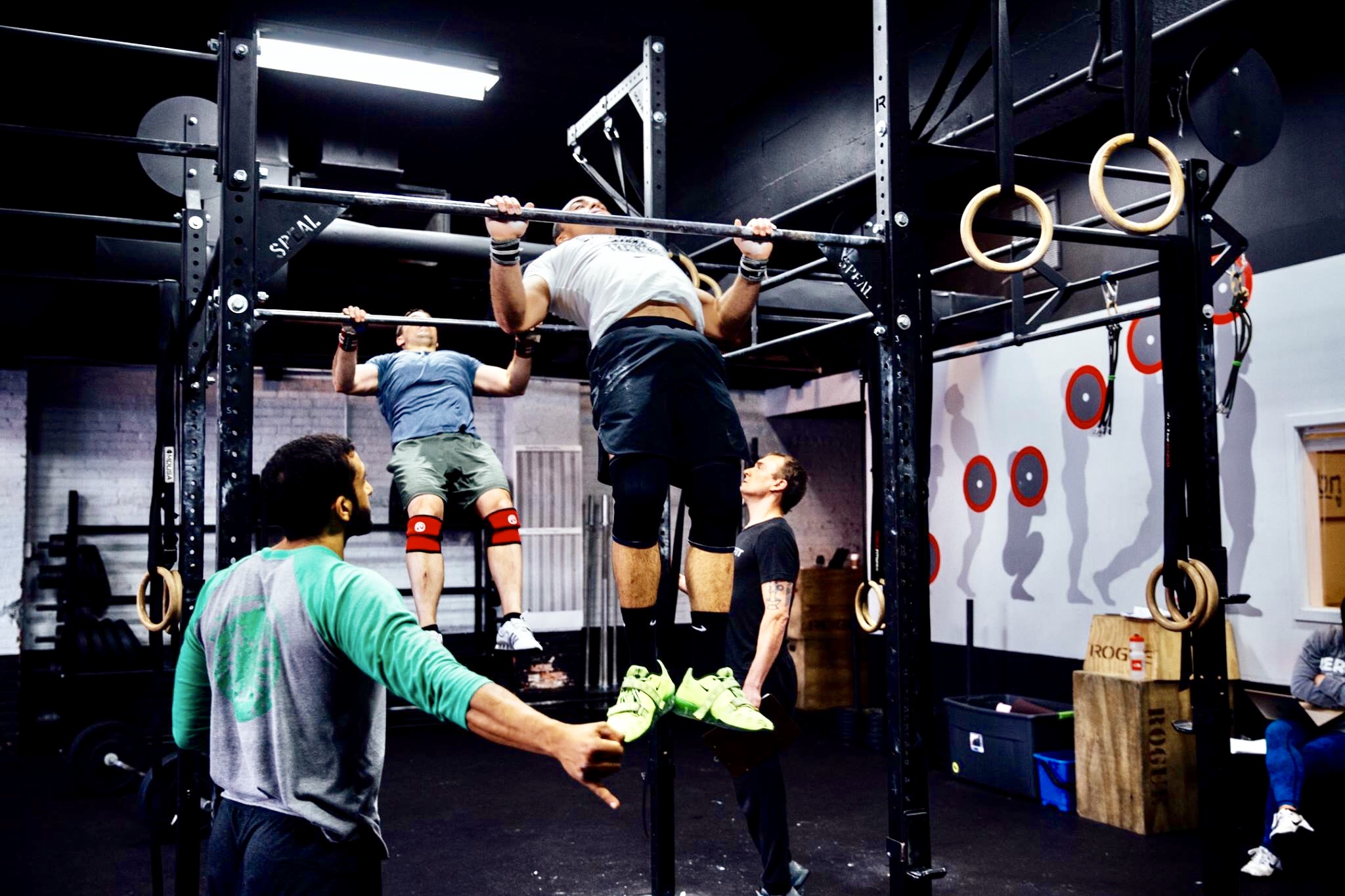 Programming Preview: Week of 4/9
April 8, 2018
Lift-off our team to USA Weightlifting Nationals.
A software developer, a housing/community advocate, and a CrossFit coach walk up to the bar.  No joking, this is serious.
Next month, we will send three of our best — Christopher C., Angela C., and Coach Emily — to USA Weightlifting National Championships in Overland Park, Kansas.  This is the Super Bowl … the World Series … the Crossfit Games of Olympic lifting.  Christopher, Angela, and Emily will step onto the platform and compete against the country's other top athletes.
Christopher entered his first competition while attending college in New York.  The lure of Oly lifting — the endless pursuit of improvement, the determination that tomorrow's session will be better than today's – quickly captivated him.  Christopher has subsequently completed in, and medaled at, multiple national meets.  He started training with DCW at U Street in 2017 and qualified for Nationals in the 62kg weight class.  When he is not throwing around the kilo-plates, Christopher develops software for an online auction company.  The secret to his superhuman strength: canned salmon.
In 2015, Angela wrote on Facebook that she was "ready to lift heavy sh*t again."  A friend saw the post and dragged her to a CFDC Intro class.  Angela was hooked.  She became a fixture at H Street, throwing up monster squat PRs and competing in local team events.  Angela also joined DCW and, over the past year, has patiently and painstakingly refined her Oly technique—so much so that she unexpectedly qualified for Nationals in February with 80k snatch and 105k clean PRs.  Outside of the gym, Angela works at a national community development and housing non-profit and critiques the city's donut offerings.
Coach Emily's journey dates back to a 2012 oly-lifting competition in our old Kalorama space.  Fast-forward six years, and she has become one of the area's most accomplished lifters in the 53kg weight class.  Emily joined CFDC as a full-time coach in 2017, alternating between U Street and H Street.  She has also mentored several members as they donned singlets and entered their first meets.  This will be Emily's second trip to Nationals, fresh off her PR-laden performance at last year's American Open.  If you need to find Emily in the coming weeks, follow the trail of gummy bears.
This calls for a celebration.  And we plan to celebrate the best way we know how.
First, we are hosting an ol' fashion CFDC/DCW lift-off.  On Saturday, April 21, our U Street doors will stay open late.  We're rolling out the bars and the plates.  You and a partner will have 10 minutes to establish a one-rep max snatch.  Then douse yourselves in chalk, tighten those wrist-straps, and step back up.  You'll have another 10 minutes to establish a one-rep max barbell complex: one clean, two front squats, and one shoulder-to-overhead.  Stir in some music, prizes, and crazy costumes — this atmosphere is ripe for PRs and a whole mess of fun.
Head over to the CFDC Facebook page or open your April newsletter for more information, and contact emily@crossfitdc.com to register.  Our event is open to everyone.
Second, we've set up an online fundraiser for Christopher, Angela, and Emily.  They train alongside us, they cheer for us, and one of them coaches us.  And they — like us — call CFDC home.  In support, we're aiming to raise at least $800 to help defray a portion of their travel expenses.  Suggested donation is $15 if you join us at the Liftoff.  All contributions are appreciated. To donate, visit the link below:
https://www.gofundme.com/liftoff-nationals-fundraiser
Third, keep your eyes peeled to CFDC social media.  We will be publishing Oly-lifting tips to use at the Liftoff and in regular class.  (New clean and snatch cycles coming in hot this month!)  And in May, we will post platform times and live-stream links for Christopher, Angela, and Emily.
Our athletes.  Our friends.  Our community.  Let's do this.
Details
When: Saturday, April 21 from 2:30-4:30pm
Where: U Street Location (1507 U Street NW)
Who: Teams of Two (Male/Male or Female/Female)
*We welcome co-ed teams and will rank you amongst everyone.
**All athletes welcome. You do not need to be a DCW or CFDC member to participate.
What: Two Events — Max Snatch & Clean and Jerk Complex (1 clean + 2 front squats + 1 shoulder-to-overhead).  Ten-minute heats for each event. Costumes encouraged. Donation suggestion of $15 per athlete, of if you merely wish us strength and mental focus on the platform. To donate, CLICK HERE!
We'll have small giveaways and a trophy item for the winners with the highest total (combined snatch and clean and jerk complex).