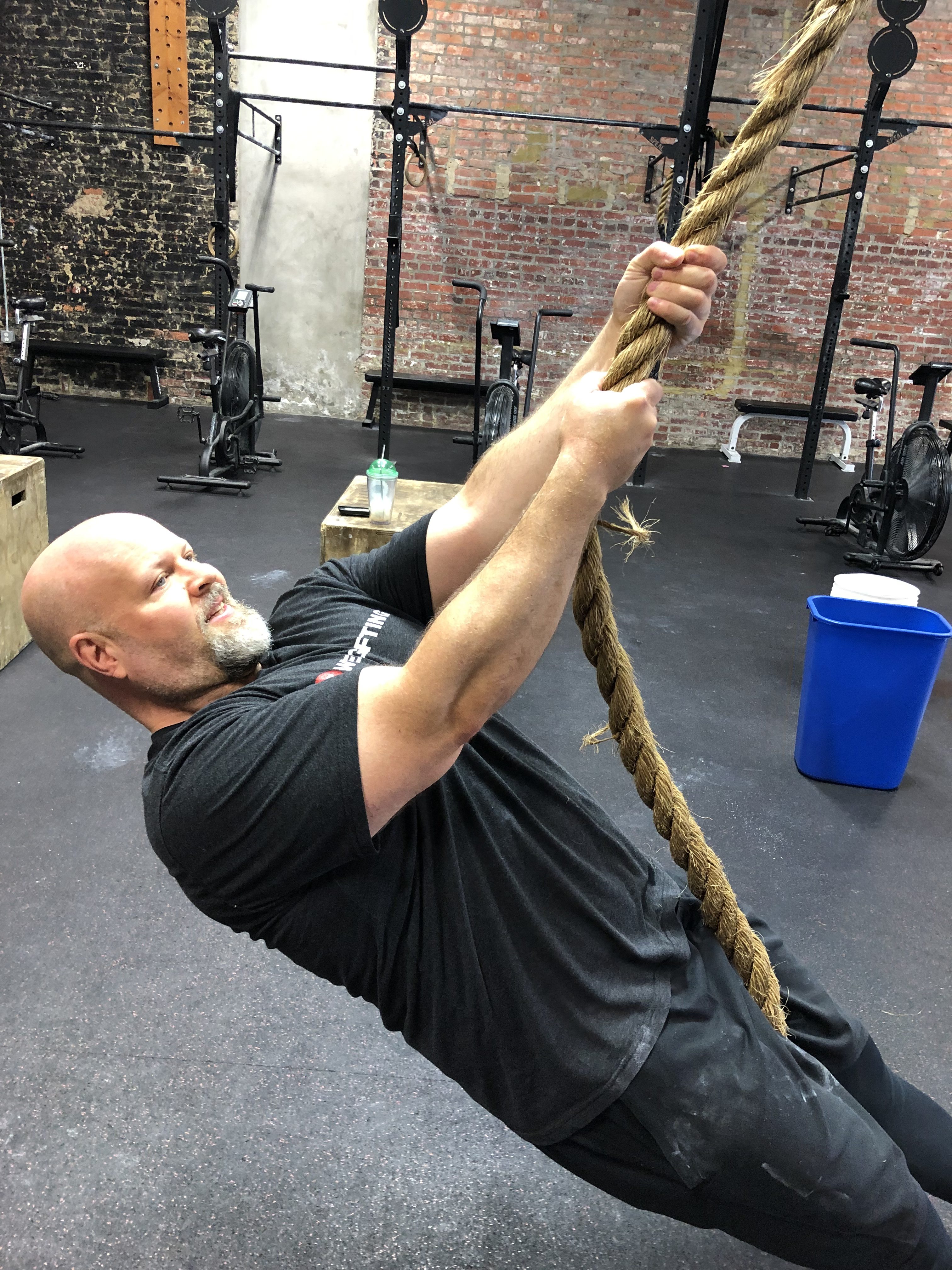 Friday, 6/21
June 20, 2019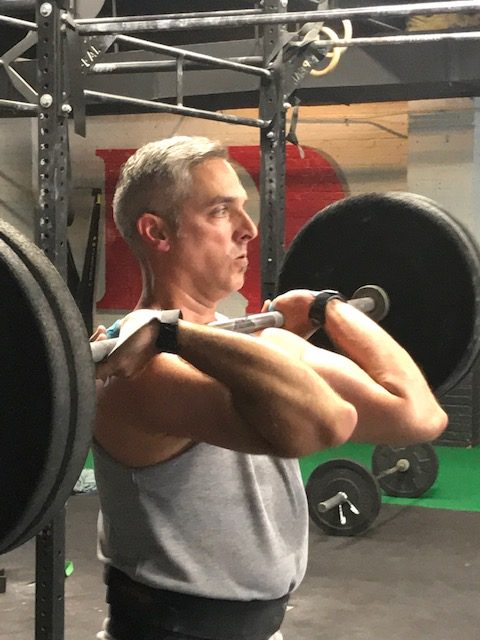 Saturday, 6/22
June 21, 2019
Kasey
My first Smackdown was about three months after I joined CFDC. I wasn't planning on participating because I was still so new to Crossfit and didn't know many people at the gym (read: I was still YouTubing the warmup movements before every class and going to 730 hoping the least amount of people would be there). A week or so before Smackdown, a friend told me that he had a friend who needed a girl on his team and bullied me into taking the spot. My initial nerves about being on a team with complete strangers were eased when we decided on space cats as the theme for our outfits. Still, I waited up until midnight the night before Smackdown to see the workouts get released so I could Google all of the movements and strategize on how to not embarrass myself and disappoint my newfound cat-loving friends.
Much to my surprise, the workouts were more strategic than intimidating, each with 3-5 different scaling or weight options that resulted in different points… oh, and crab walks? The day of Smackdown was a whirlwind of meeting new people, pushing myself and trying some new skills, and explaining that my space cat leggings were actually a gift. My first Smackdown is still one of my favorite experiences with CFDC because it was the first time I really felt apart of the CFDC community and understood what this Crossfit thing is all about. I've participated in Smackdown every year since, and I would encourage everyone in the gym to participate, no matter how new or unsure you are. You won't regret it!
Christina
My first Smackdown was in October 2015. I had been a member of CFDC for about 6 months. My team had a blast, and it gave me a chance to compete with people I knew well and to make a new friend too! I will never forget the final minutes of the last workout with Mike D. and a relatively new member, Tyler D. (you may have heard of him by now) going head-to-head on some slamball carry box step-overs.
The entire gym felt electric those last few seconds; the screaming and cheering could probably be heard five doors down. The crowd erupted at the nearly photo finish, and regardless of which team people had been cheering for, the celebratory vibes were all around and lasted well into the night at the after-party.
Angela
What if I told you I don't remember my first time…?  I only remember it was me, Hans, Stacy, and Chris Janes.  Our team name was Team Tiger Balm because someone (usually Chris) would smell like it.  I found the most obnoxious jersey pinnies that had the face of a tiger melting into the grass (or something?).  We didn't quite make it to finals, but the best part was agreeing that we would try for a repeat the following year.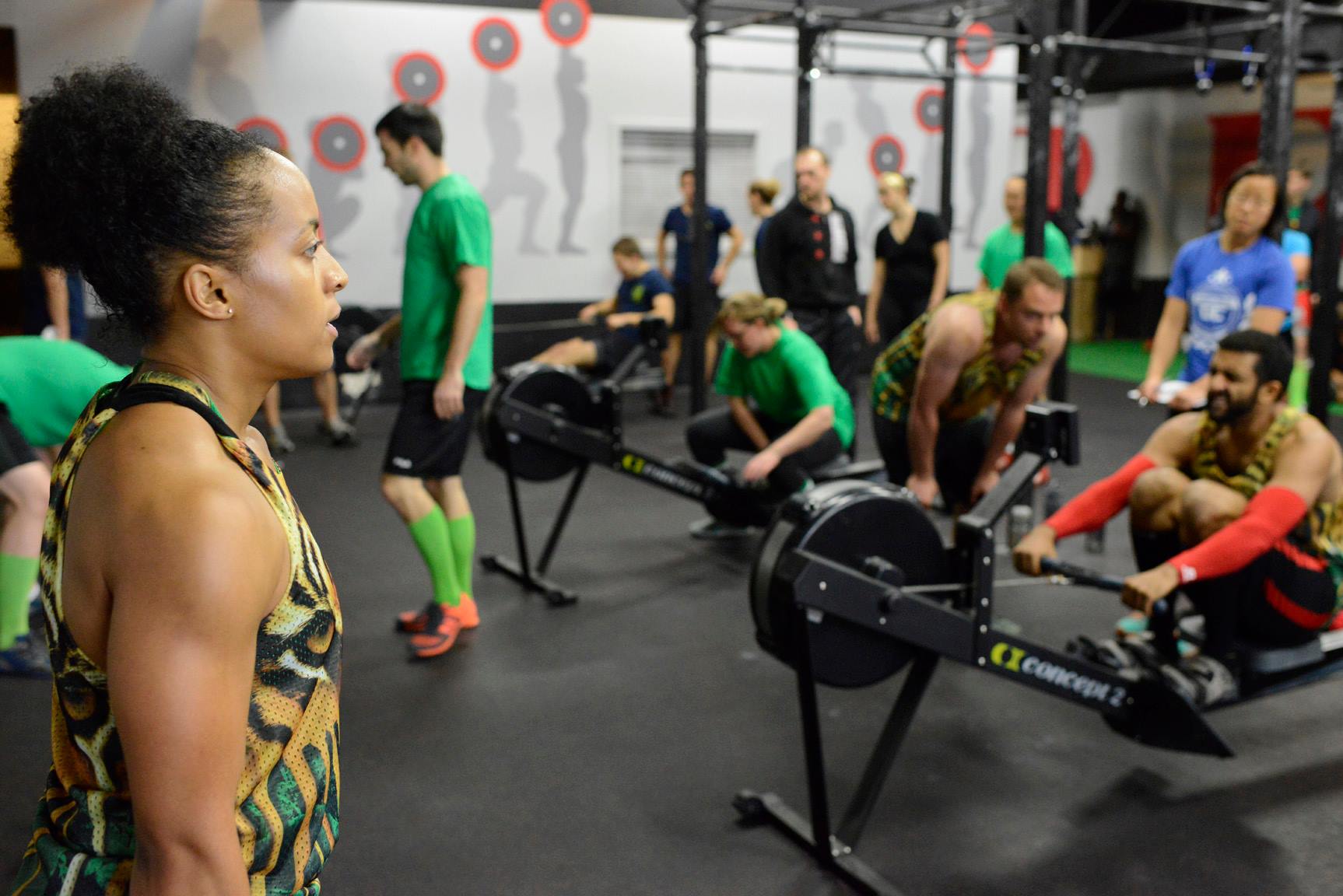 Jessi
My first Smackdown was in 2013 and my team was the Dropkick Burpees with Peter Petersan before either of us were coaches. I'm still proud of that team name and handmade t-shirt (it had a t-rex on it). We made it to the finals, an epic showdown of prowler pushes in the rain, which I will never forget – because of everyone cheering us on but also because they were done and already drinking beers, which looked really good from behind a prowler that refused to move. Winning isn't necessarily the goal for a lot of teams. And I have to say my favorite part of the Smackdown has always been the team names, the costumes, and the cameraderie.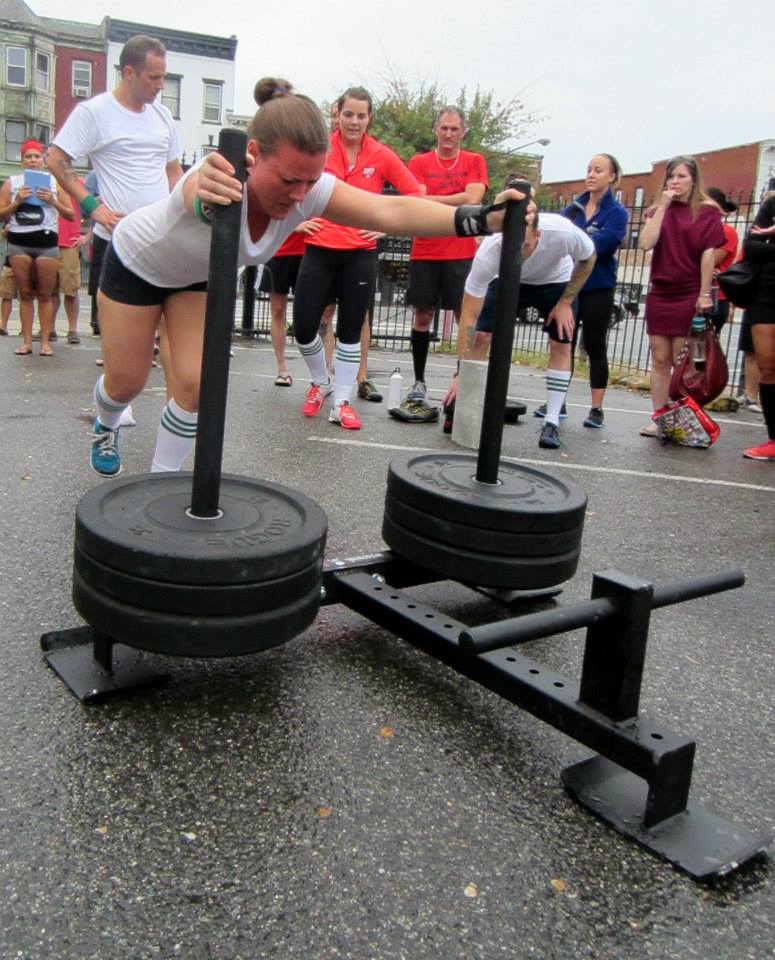 Another year I was on Top Gun themed team Missiles2Guns. Our shirts read "too close for missiles, switching to guns" with arrows pointing to our biceps. We cut off the sleeves of course. Then there was Team Fitness Casual, with monogrammed polo shirts and headbands. Turns out working out in polo shirts is really hot, but we persevered. You gotta make sacrifices for a good team costume. I can't wait to see what this year's teams come up with.