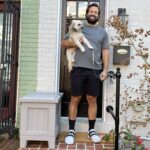 CFDC H Street Member Spotlight August 2023: Richard
July 30, 2023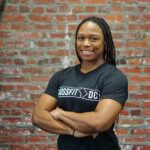 Get to Know: Coach Kiara
July 30, 2023
How long have you been doing CrossFit and how long have you been at CrossFit DC?
Marissa has been doing CrossFit since November 2021 and Mike since May 2022. CFDC has been our first and only box.
What do you do when you're not crushing workouts at the gym? 
Marissa was an elementary teacher and is now a data specialist with Fairfax County Public Schools. Mike works as an Emergency Medicine Physician, did his residency in DC and is now working in Northern Virginia. We love to travel, hang out with friends in DC, and explore the dining and music scenes. Marissa enjoys baking, Mike plays the occasional poker, and we both love rooting for our alma mater Maryland. Go Terps!
Now with Skylar, we love being home with her, documenting all her facial expressions, taking her on walks in the stroller, and watching her big brother Eggi the corgi interact with her. We're enjoying our time as a family and sharing her with our friends and CFDC community. 
What is a goal you're currently working towards (in the gym or beyond)?
Marissa is recovering and can't wait until she's able to go back to the 6am class again. Mike is just working on lifting heavier weights after never working out legs before CFDC and would love to get to a 200# front squat this year. We also envision doing a synchro bar muscle up one day!
Favorite and least favorite CrossFit movements/workouts?
Marissa enjoys pull-ups and split jerks while Mike enjoys wall balls and box jumps. Also love a good bench day. We both dislike thrusters and barbell snatches.
What is one coaching cue/tip that has helped you recently?
Marissa: All tips and life advice that has ever come from Coach Chris' mouth
Mike: Bracing your core before lifting. Has really helped me stabilize the weight and protect my back
What is something you wish you knew about CrossFit when you first started?
Marissa: That scaling a workout is absolutely acceptable, there is no judgement in this community, and success in a workout can be defined differently person by person as everyone has different goals they are trying to achieve.
Mike: I've never enjoyed working out before, but with the awesome programming and friends/community that CFDC brings, now the daily activities I look forward to most are hanging out with baby Skylar and going to the gym