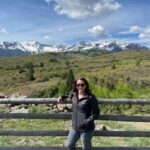 CFDC H Street Member Spotlight September 2023: Tiffany R.
September 5, 2023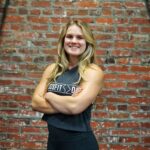 Get to Know: Coach Emily
September 5, 2023
How long have you been doing CrossFit and how long have you been at CrossFit DC?
I have been doing CrossFit for 4-5 years now. I started coming to CrossFit DC on a 3x per week membership in December of 2022 and in August I switched to the unlimited membership.
What do you do when you're not crushing workouts at the gym?
When I am not at the gym you can find me at home with my two cats, training aerial silks, teaching pole dancing, playing Stonewall Kickball, or out and about with friends.
What is a goal you're currently working towards (in the gym or beyond)?
At the gym, Double Unders are my nemesis at the moment. They occur sporadically. I know I can achieve them. They are closer than they have ever been.
Favorite and least favorite CrossFit movements/workouts?
Favorite: I love Back Squat, Deadlift, and Clean
Least Favorite: overhead movements – I have hyper mobile shoulders so snatches scare me a bit. I also dislike "Fran". It is a terrible workout but it is also the WORST to be named Fran and go to a gym when "Fran" is programmed.
What is one coaching cue/tip that has helped you recently?
I am currently working on getting a stupid microbend out of my right arm when I Split Jerk and was told to drop a little lower as I am still catching a bit high.
What is something you wish you knew about CrossFit when you first started?
I don't know if there is anything in particular that I wish I knew when I first started, I just wish I started earlier in life.