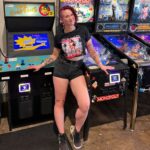 CFDC U Street Member Spotlight September 2023: Francesa A.
September 5, 2023
Programming Preview: Week of 9/11
September 10, 2023
What's your favorite thing about CrossFit?
What I love most about CrossFit is that it's impossible to get bored; each day there's a different workout with different movements. Even after doing this for years, I still find myself chasing new skills in the gym and seeing myself grow.
How did you first get into CrossFit?
I love anything and everything gymnastics! Ring muscle-ups, bar muscle-ups, HSPU, handstand walks, pull-ups…
Why did you decide to become a CrossFit coach?
Looking back on my early teenage years when I first started CrossFit, I can definitely say that it has had a huge impact on my life. I am thankful to have created healthy habits early and developed a passion for exercise, wellness, nutrition, and health. As I got older and further into high school/college I wanted to make the shift to coaching which has been both exciting and rewarding.
We know that coaches are always working towards their own goals in addition to helping athletes reach theirs. What's a recent gym accomplishment you're proud of?
 Something I spent a lot of time working towards last year is my certification in nutrition coaching through NCI – I'm happy to say I can officially call myself a nutrition coach!
You may or may not have known, but in addition to coaching CrossFit classes, I also do individual nutrition coaching here at CFDC! Fill out the survey on our website if you ever want help in achieving your nutrition goals.