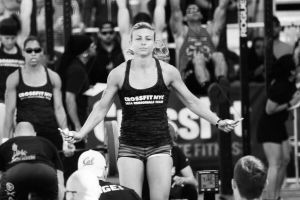 Kate discovered CrossFit in the summer of 2010. As a former ballerina, basketball player, and track athlete, she had become bored with a fitness routine that lacked goals and competition. After her first CrossFit class, however, Kate knew she had found a discipline that resonated with her. From the start, she was passionate about the intensity, motivated to master the many challenging movements, and inspired to push herself beyond her limits.
She was undeterred by lack of strength, mobility, and previous weight training experience. With dedicated work Kate finally achieved her first pull-ups (a year later!), and began competing at local events when she moved to New York City — first in the scaled division, and later in the regular division. Kate surprised herself by qualifying as an individual for the CrossFit Games North East Regionals in 2014, and had the pleasure of competing at Regionals with the CrossFit NYC team that year. She has continued to compete after moving to DC last year for medical school. Her performance in the 2015 CrossFit Games Open earned Kate the title of "Fittest in Washington, DC" and facilitated her participation in the 2015 Atlantic Regional with the CrossFit DC Team.
As a coach and a medical student, Kate loves helping people set and achieve their goals. Whether in the gym or in the clinical setting, her aim is motivating and empowering her athletes and patients to accomplish tasks they never thought possible. As a rising medical practitioner, Kate hopes to combine her knowledge of fitness and lifestyle modification with preventative medicine to help combat the country's most pressing health care issues.
CrossFit Level 1 Coach
CPR/AED