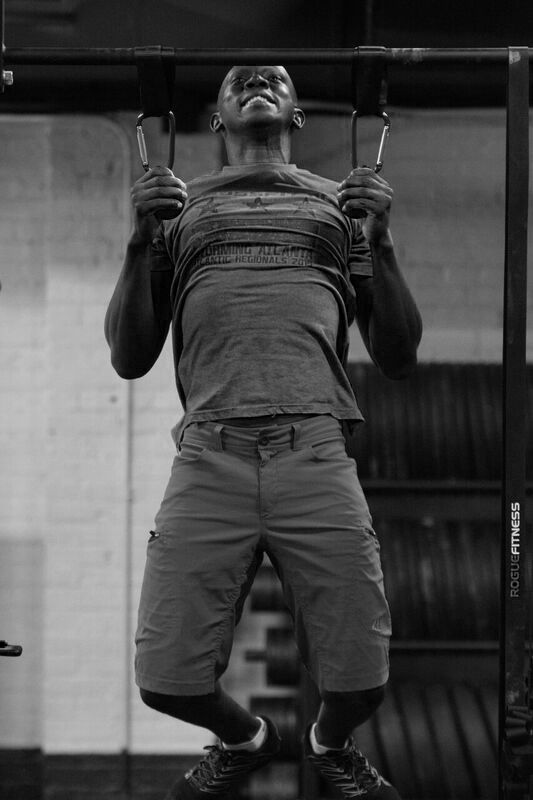 Head Coach & Lead Personal Trainer Steve Opiyo got into fitness because he hated to lose.  Every time he played basketball with his older brother, he'd come out on the losing end.  So he started hitting the gym.  Got stronger and faster.  Started beating his brother to the basket. Didn't lose a game after that.
For Steve, training became a way of life.  Before long, he found himself drawn to the prospect of helping others accomplish their fitness goals.  As a personal trainer and group instructor, he earned multiple degrees and certifications.  He spent well over a decade at a big-chain gym, teaching and coaching everything from spinning to total body conditioning.
Still, his first taste of CrossFit – a Sunday morning class with CrossFit DC, back in the early days in the old Kalorama gym – came as a shock.  The workout, a long chipper, stunned him.  Even more astonishing was the community – the support, the encouragement, the common sense of commitment.  It was like nothing else he had ever experienced.  The closest analogy he could think of was "family."
Today, as a coach, Steve appreciates the opportunity to challenge, motivate, and encourage people to reach their goals, all while emphasizing the importance of having fun.  He loves helping athletes accomplish things that they once never imagined in their wildest dreams, from getting a first pull-up to shattering long-held PRs.  In addition, he remains an active competitor, and can also often be found judging and volunteering at local competitions.
CrossFit Level 1 Coach
CrossFit Football Certification
NASM Certified Personal Trainer (CPT) and Performance Enhancement Specialist (PES)
NSPA Certified Strength and Conditioning Specialist (CSCS)
CPR/AED